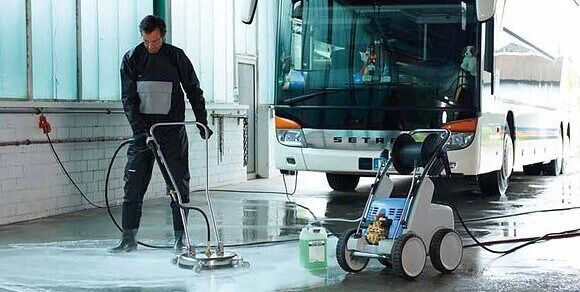 Product Spotlight: Round Surface Cleaners
Let's take a look at a popular high pressure cleaner accessory – 'Round Cleaners' or 'Surface Cleaners' – whatever you like to call them!
Surface cleaners are the best way to clean large flat areas. Designed for large areas such as driveways, carparks, footpaths, garage floors, tennis courts and much more, these attachments eat up the metres and save you a lot of cleaning time and effort!
A variety of sizes are available in the round cleaners, up to 520mm (20″) – which enables you to cover a lot more area comapred to a standard fan type nozzle which is limited to a few inches in a flat pattern. Round Cleaners can remove dirt up to 15 times faster than a standard fan jet lance!
So how do Surface cleaners work?
The central part of a surface cleaner is the swivel. A quality swivel is key to a good surface cleaner. Most surface cleaners have two arms coming out from the swivel, with a nozzle on the end of each arm, pointing at the surface.
The flow of the water from your high pressure cleaner causes the arms to rotate (greater flow = faster spinning = better cleaning efficiency), which creates a scrubbing action onto the surface. In addition, the spray nozzles are only a few inches from the surface which means even greater cleaning power.
The protective housing (stainless steel and poly options available) and brush skirt protect the surrounding areas.
Some of our models come with large wheels for ease of movement over rough surfaces, some have no wheels and are designed to 'hover' above the ground.
What are the benefits of a surface cleaner?
Less time needed to clean large areas. As a contractor this means you can complete more jobs in less time = increased profits!
No arm or back strain compared to holding a standard pressure cleaner gun and lance setup – most surface cleaners are walk behind and don't require you to bend over
Can be used with cold or hot water high pressure cleaners
The nozzles are always an even distance from the surface being cleaned, thus reducing 'zebra striping' effect
Huge range of applications they can be used with!
Extremely simple to use and very affordable!
Contact your local PowerBlast dealer and try out a Kranzle or PowerBlast Surface Cleaner for yourself! Make your tough cleaning jobs easier.
See our range of Surface Cleaners