What Makes Kranzle the Best?
If you look at the Kranzle brand, you will see sophisticated high-pressure cleaners with technical benefits that are designed to extend the service life of the machine. Many of these technical details are innovations that original in the Kranzle development centre in Illertissen Germany and are exclusive to Kranzle machines. A properly designed pressure washer has a brass pump head, a 4 pole (slow revving) electric motor, continuously adjustable pressure and of course a decent a warranty, So we'll just explain the key features that are unique to Kranzle and why it's important to know these things.
Special Brass Pump Head
The kranzle pump head is manufactured by Kranzle in Germany from forged special brass and guarantees an extremely long service life, in fact it come with a 10 YEAR GUARANTEE!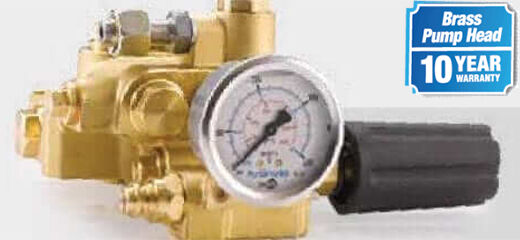 ---
Stainless Steel Plungers (pistons) With Ceramic Coating
All kranzle pump have ceramic coated stainless steel plungers. These provide excellent thermal conductivity and when combined with the positive characteristics of a hard ceramic coating, offer an extremely low-wear surface.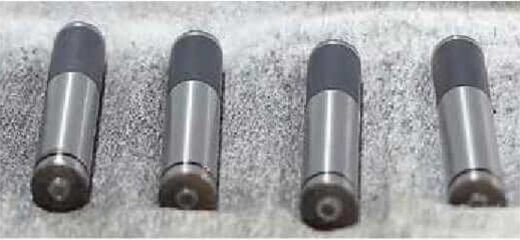 ---
Dry-run Safety and Leakage Return System
Kranzle pumps can be run without water for quite some period without suffering any damage. This is called the 'Dry-run-safety' and is achieved by creating a water cushion between the high-pressure seals on the plungers which prevents any sucked in air from reaching the pump chamber.
Each plunger is equipped with a fabric sleeve and a Teflon graphite backing ring. the excellent Iubricating properties of Teflon graphite serve to reduce both the friction and temperature inside the pump.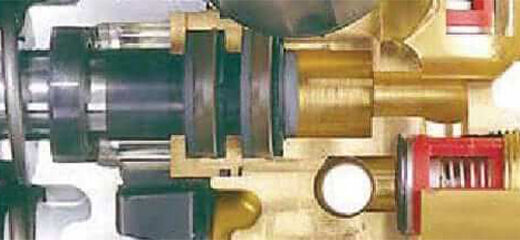 ---
Technical Advantages of Kranzle
A major reason for the success of Kranzle products is the great importance attached to the in-house Research and Development centres at the Illertissen Plants in Bavaria. State-of-the-art CAD systems help to provide superior product quality and optimize production processes.
The heart of each high pressure cleaner is the high pressure pump. The Kranzle pump heads are made entirely of forged brass (with a 10 Year Warranty) to ensure top quality and a long service life. All pumps are manufactured on CNC machining centres with electronic control systems to guarantee maximum precision and compliance to specifications.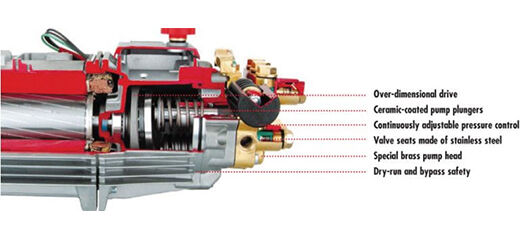 ---
Best Warranties in the Industry
The quality of the Kranzle product range is accentuated by our exclusive 5/10 Year Warranty Programme. Specifically, this warranty means that your Kranzle high pressure cleaner is covered by a full 5 year, unlimited hours warranty*. Additionally, the pump head in all Kranzle pressure cleaners is warranted against stress failure for 10 Years – absolutely unique in the High Pressure Cleaner industry!
Please note: Kranzle Home and Garden range is covered by a 2 year domestic warranty. Warranties exclude wear and tear items such as o'rings, hoses etc.
---