Multiply your Cleaning Power!
Incredible Blasting Power and Speed with the Kranzle 'Dirt-Killer' and 'Turbo-Killer' Nozzles!
You will find it hard to believe just how much more cleaning power you will achieve until you actually start using a Kranzle 'DirtKiller' or 'TurboKiller' nozzle! The power of your existing high pressure cleaner will be transformed!.
Many people liken the change from a standard fan nozzle to a 'DirtKiller' or 'TurboKiller' to the difference when you change from a standard drill to a 'hammer' drill! The German designed and engineered 'Dirt-Killer' or 'TurboKiller' nozzles work by creating a high impact 'needle-like' jet of water (which has incredible force!), and then rotating this needle jet up to 3000 RPM to clean a large area with amazing speed!.
Risk-Free Trial
Are you excited about the possibility of cleaning 70% faster and getting your job done in 2/3 the time? Order your 'DirtKiller' or 'TurboKiller' nozzle now and experience the difference for yourself. If you are not 100% satisfied you may return your nozzle for a full refund – we will even pay the return freight!. Please have the make and model details of your high pressure cleaner handy when you order one of these nozzles, to make sure we match your nozzle to the correct flow and pressure for your machine. We are able to supply adaptors to suit all brands of high pressure cleaners.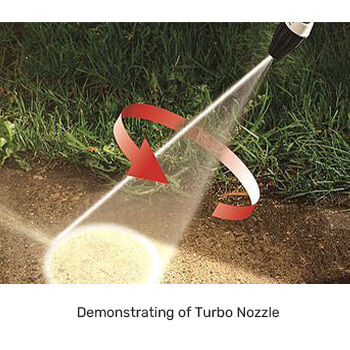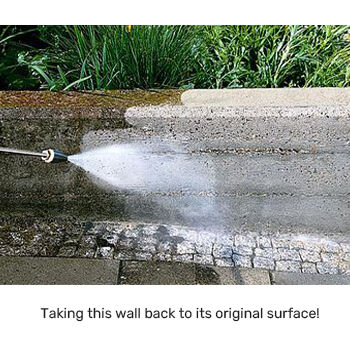 ---
Should I use hot water or cold?
Improve your cleaning efficiency by upgrading to Hot Water!
Cold water high pressure cleaners can be used very successfully in many different applications – using a combination of the water impact, and, where necessary – the use of chemical or soap.
Generally, cold water is used in applications such as cleaning heavy earthmoving equipment, removing marine life, general maintenance and building cleaning, and other areas where grease and oil are not factors.
When it comes to cleaning applications where you are required to sanitize or degrease an area – this is where hot water high pressure cleaners are ideal. They clean much faster and more thoroughly than their cold water counterparts.
Why? Well. We all know that when we wash the dishes it is much easier if we use hot water – and even easier if we use hot water, and a cleaning chemical. The reason is that the hot water is able to dissolve the grease rather than just shifting it as cold water does. This results in a much cleaner surface. The hot water is also ideal for areas that require hot water or steam for sanitization – for example food processing plants, pharmaceutical plants and other federally inspected areas.
We have different hot water models available:
Diesel heated electric models from the Kranzle range
Electrically heated electric models from the Kranzle range (ideal for indoor use and for sanitary/food/pharmaceutical applications – no fumes, no fuel)
Self-contained engine driven units – no electricity required
We can also supply Zone Rated hot water units, LPG driven hot water units, and more!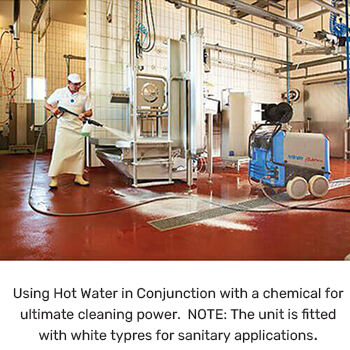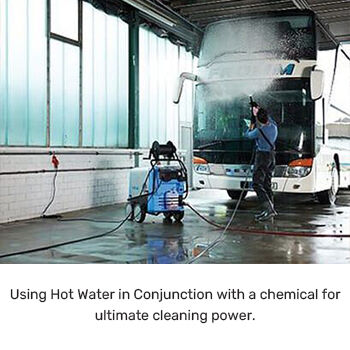 ---
Pressure Cleaning Safety Tips
Before you start your pressure cleaning job, it is important to identify all hazards of the job, to ensure you are well prepared.
Next, you must ensure you have taken every safety precaution for yourself, others doing cleaning, and other people, animals and areas around you.
Identifying Hazards around you. These may include, but are not limited to:
Extreme temperatures – be wary of cleaning in extreme heat, you may be susceptible to heat exhaustion and fatigue
Airborne objects – cleaning dirty surfaces can send debris up towards you
Chemical Hazards – when cleaning with chemicals, be sure to take the proper precautions recommended by the chemical manufacturer, e.g. use chemical proof protective clothing
Electric shock – ensure any power cables being used are not in low lying areas where water may gather – lift them up where possible. Ensure water is not directed at the power supply or at the pressure cleaner
Fumes/Ventilation – when using a pressure cleaner with a petrol or diesel engine, or a hot water unit with a diesel burner, ensure there is proper ventilation around the work area
Use proper warning signage around the cleaning area to prevent people coming near
Ensure you have proper safety gear:
Eye protection – always wear safety glasses or a face shield when using a high pressure cleaner, to protect against chemicals, debris bouncing back and spray back.
Wear proper clothing that does not restrict movement or vision. For high pressure applications upwards of 5000psi, special safety clothing is available that is able to resist direct spray from a pressure cleaner
If using engine driven pressure cleaning equipment, use appropriate ear protection as they can be quite loud.
If you are doing a job on a roof or on a scaffolding, always use appropriate fall restraint equipment
Wear gloves and boots to protect against chemicals, high pressure water, debris and other hazards. Boot protectors are also available for applications where you are cleaning near your feet
Ensure you wear a respirator/mask when working around dust, chemicals, paints and other toxic fumes.
---
Do's and Dont's When High Pressure Cleaning
What to do and what NOT to do when high pressure cleaning!
DO
Wear proper eye, face and hand protection when operating high pressure cleaning equipment.
Attach nozzles and accessories correctly BEFORE starting your high pressure cleaner
Keep hands and feed well clear of the high pressure stream at all times
Use a cleaning chemical in conjunction with the high pressure water if the surface has heavy dirt and grime
Follow all manufacturers instructions for the product you are using
Work from the top to the bottom when cleaning vertical surfaces, otherwise dirt and grime will run down onto the cleaned section
Wash the surface thoroughly!
Apply the safety catch on the trigger gun after use to prevent unintentional spraying
DO NOT
Fill a fuel tank while your pressure washer is running
Remove lances, guns or hoses while the unit is under pressure
Try to repair a leak while the machine is running
Point the pressure cleaner lance at any person or animal, or at the machine itself
Use a faulty power cable
Pull the high pressure hose if it has formed a kink or knot
Allow children to use the high pressure cleaner
Direct the water stream at a power socket
Use any homemade device to keep the trigger open