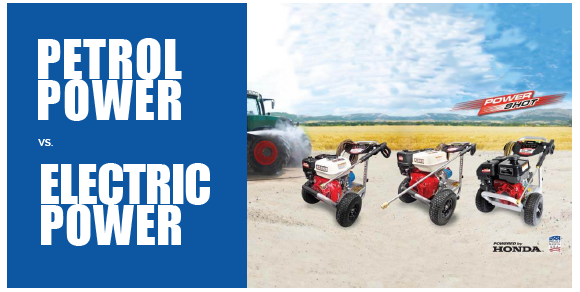 Electric Vs. Petrol Powered Pressure Washers
In this article we aim to educate you about both the advantages and limitations of both the electrical and petrol-powered pressure washers so that you can make an informed decision on which type of machine is right for you.
Investing in the perfect pressure washer for you needs can be a challenging task – if you have any further questions – give us a call on 1800 812 223 we can't wait to discuss which machine would work best for you!
PETROL-POWERED PRESSURE WASHER:
A petrol-powered pressure washer is exactly as it sounds – they use petrol to power them and are unrestricted by the need of electricity. Giving you the freedom to clean it up anywhere, anytime.
Petrol powered machines have a lot more power comparative with the equivalent electric machines. This is great for getting the job done quickly and efficiently.
Petrol powered machines have the ability to suck their own water, without the need to have pressurised water being fed into them – They can be used remotely with a water tank; on the back of your Ute or from a rain water tank etc.
On the flip side petrol-powered machines are often more complex to use with higher maintenance needs. Having the freedom of using them anywhere also means they are heavier this is often overcome by using them from a trailer or off the back of your Ute.
ELECTRIC POWERED PRESSURE WASHER:
An electric powered pressure washer needs electricity to run, which means you are restricted by proximity to a power supply but this also means a larger range of machines to choose from. There are both 240V/Single Phase and 415V/Three Phase available.
Electric powered machines are a lot quieter and easier to use. Electric machines are also more user friendly than a petrol-powered machine which tend to be a bit more complex to use and maintain.
Electric machines are a more popular option as they require less maintenance and are cheaper in the long run. If you do not have the need for portable cleaning, electric powered is often the best way to go.
DIFFERENCES BETWEEN A PETROL AND ELECTRICALLY POWERED PRESSURE WASHER:
The main difference between petrol and electric is that with electric powered pressure washer you are limited to only being able to use it where there is electricity available, however there are a few more factors that come into consideration when deciding between the two.
Electric powered:
Advantages:
Normally lighter in weight
User friendly – allows maximum control over the performance
Easier to maintain + lower maintenance needs/costs
Relatively cheaper in the long run
No need to refuel
Larger range of machines to choose from
Disadvantages:
Limited to a source of electricity either 240v or 415v depending on the machine
Needs a pressurised source of water such as a tap
Lower pressure comparatively
Petrol Powered:
Advantages:
Petrol powered gives you freedom to be used anywhere
Can suck its own water i.e., able to be used with a water tank
Higher pressure = quicker washing
Disadvantages:
A lot louder operation
High maintenance
More complex to use
Heavier in comparison
Gives off fumes – needs to be used in a well-ventilated area