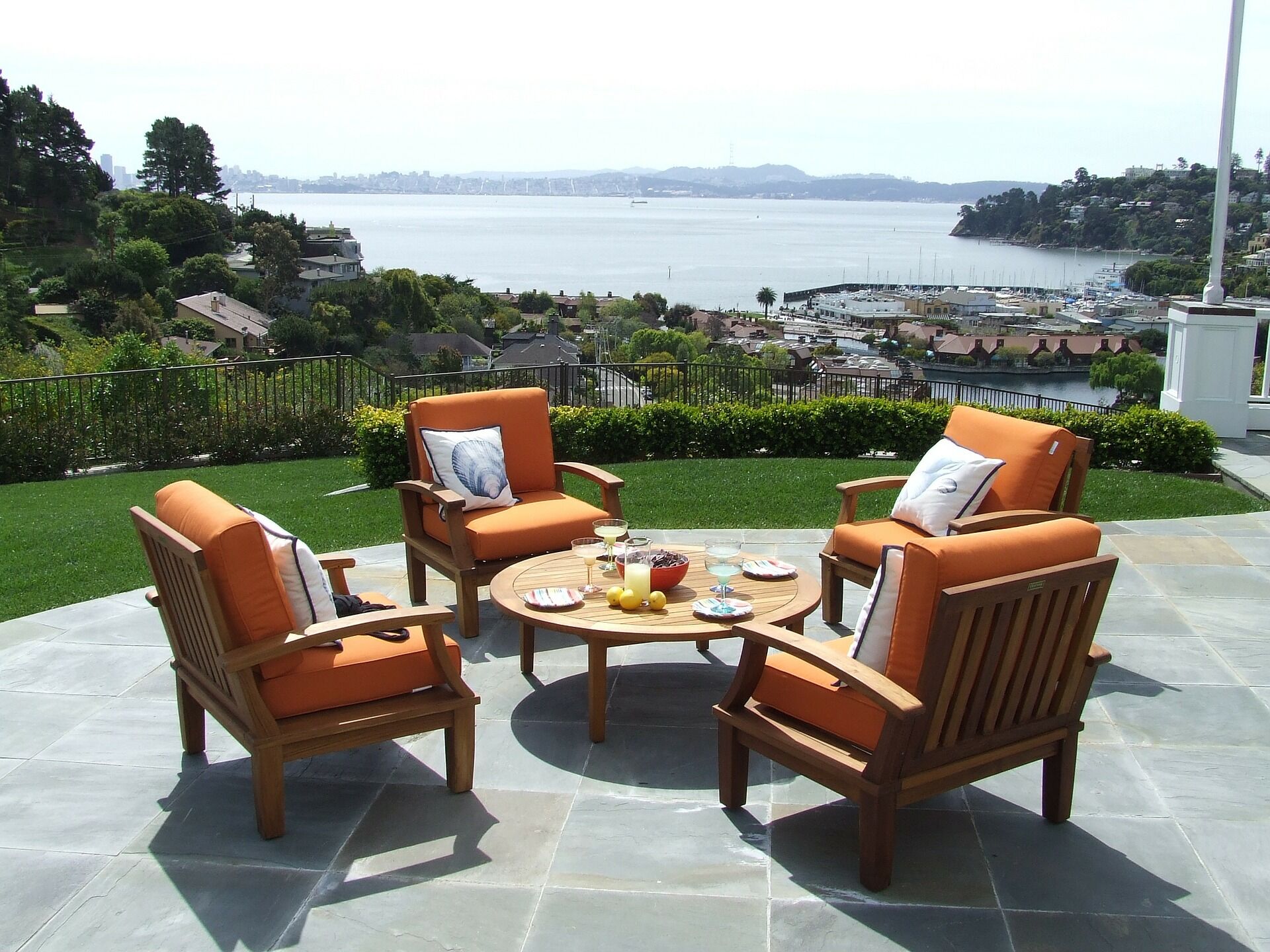 What is the best way to pressure wash a deck or patio?
Cleaning outdoor areas becomes priority at this time of year with summer outdoor entertaining on the horizon. Not only does a clean outdoor area make for an enjoyable time with your guests it's also an important step in upholding the integrity of your space. This is especially important if you have a wooden deck, as it removes dirt and build up of any bacteria or mould that could shorten the life of your wood. Pressure washing your deck also provides the perfect opportunity to add an extra layer of stain or coating to get your space looking immaculate and provide protection for the extra foot traffic over summer.
Cleaning a concrete outdoor area/entertaining space with a pressure washer is as equally important as it removes any stains or build up that has accumulated over the winter months. Refreshing your space and ensuring there isn't any build-up of a slippery substance that could turn into a slip hazard for your guests. It is recommended to pressure wash concrete areas around your home at least once a year, this way there won't be much build up and your concrete will stay looking fresh.
With that being said let's get into the best ways to clean an outdoor area with a pressure washer.
A UFO/round cleaner/surface cleaner attachment: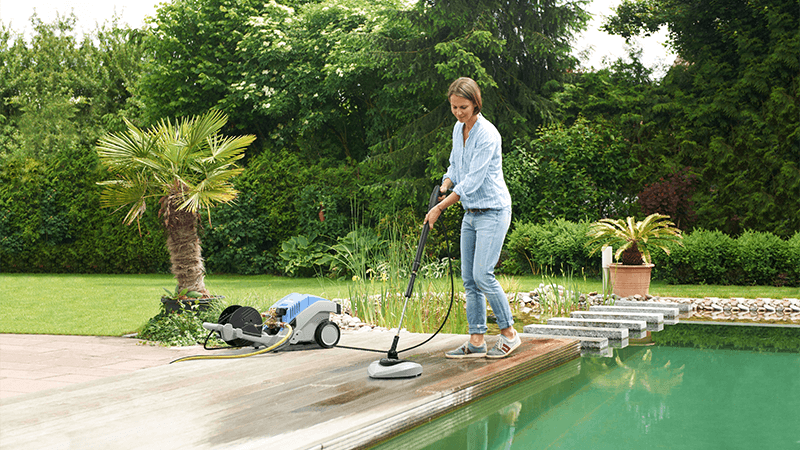 A UFO is the perfect option for cleaning outdoor entertaining spaces as they cover a larger surface area compared to a single nozzle cutting down wash time – they use either a rotating beam or a series of inward facing jets to quickly and easily scrub any surface clean.
Round cleaners have multiple benefits including; being a safer option on delicate surfaces as they won't 'eat' into wood like a direct nozzle can. They have earned themselves a reputation of being very ergonomic to use as they incorporate wheels and a push handle, you don't have to bend as much or carry the weight of a gun to use this attachment. Depending on the brand you buy this accessory often incorporates a splash guard meaning there won't be dirt and grime splashing up on walls while you are washing, saving you rinse time later.
That being said if you have a particularly stubborn stain a UFO/Surface cleaner may not have enough pressure to remove it, just spray with a good degreaser from your local automotive store and go back over the stain, this will remove majority of stains. Most Pressure washer brands will stock this kind of accessory for your pressure washer, however below is the link to the Powerblast/Kranzle options.
https://www.powerblast.com.au/products/parts-and-accessories/high-pressure-cleaner-accessories/
A Turbo Nozzle/Rotating Jet Nozzle: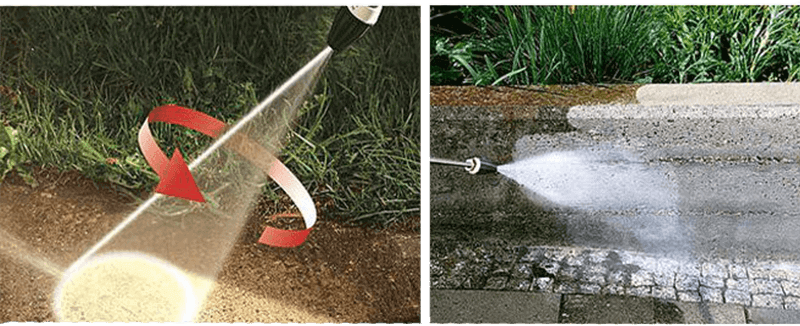 This one is a great option for stained concrete or stubborn build up. A rotating jet nozzle can increase the EWP (Effective Working Pressure) of your pressure washer by up to 70% - which is incredible for block paving or concrete areas.
It is a very aggressive nozzle as it creates a spinning pencil jet so you cannot use this on wood or any delicate surfaces as it will eat into the material.
On the flip side it creates a fantastic option to get those extra tough stains removed quickly and effortlessly. This is more time consuming than using a surface round cleaner but having concentrated power over a larger working area gets the job done twice as fast compared to a standard flat nozzle. You can check out Powerblast's options on in the below link.
https://www.powerblast.com.au/products/parts-and-accessories/nozzle-and-rotary-jets/
Warning: Please test on a small patch prior to using and do not use on wood or delicate surfaces, on edges or cracks in concrete as it can cause further chipping.
Standard Fan nozzle: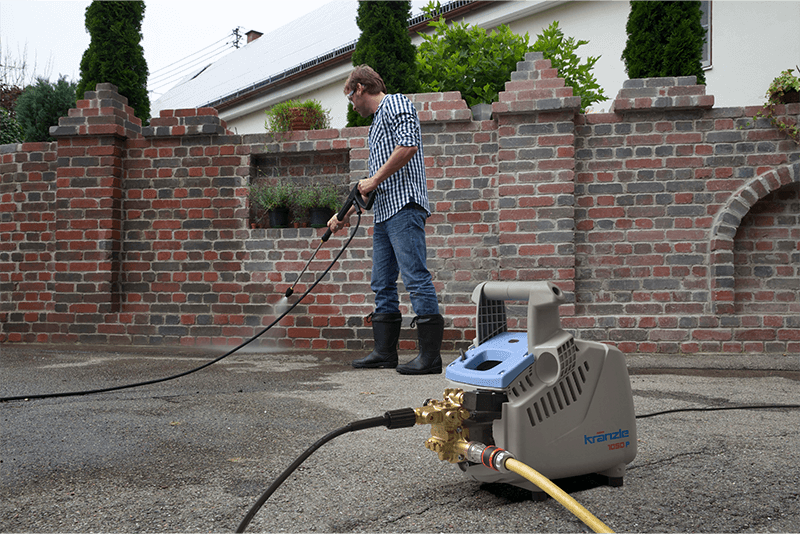 Using the standard fan nozzle that comes with your pressure washer is a great option as well. It is a lot more effective and efficient than your standard garden hose and certainly beats scrubbing the area by hand.
If you have a standard fan nozzle on your pressure washer use it like you would a chisel, keep the water hitting the surface at about a 45 degree angle and not straight down, use sweeping motions for the most effective outcome.
Always test your pressure washer further away from the surface and bring closer as needed, some machines have enough pressure to cut into wood if held to close. A splash guard such as linked below is also a great attachment for a standard nozzle so you don't get dirt and muck flung as you work.
https://www.powerblast.com.au/products/parts-and-accessories/high-pressure-cleaner-accessories/display/182-132600-kranzle-spalsh-gaurd
Pair your pressure washer with a chemical: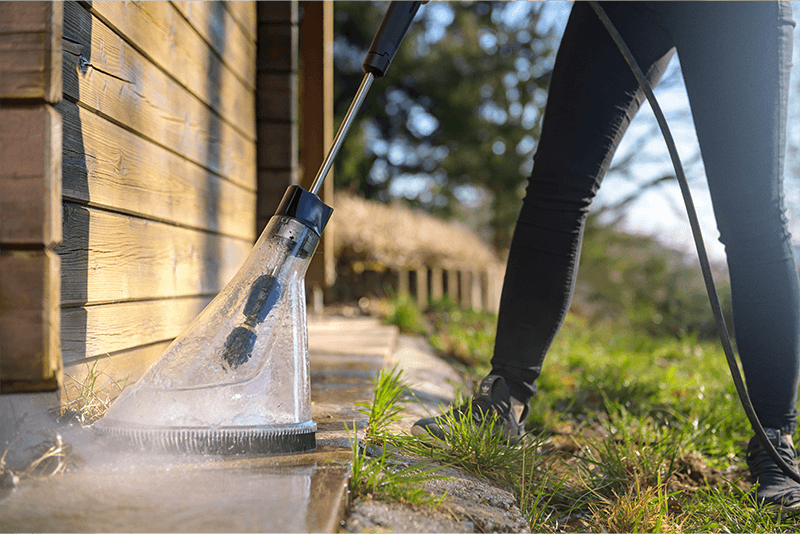 A soapy detergent or a degreaser from your local automotive store can also help you obtain a spotless deck/patio quickly. Be sure to broom the surface down and then apply your choice of chemical using a pressurised sprayer (aerating your chemical increases its effectiveness), this is also a great option if you have mould or other bacteria on your deck or patio – you can purchase chemicals that not only remove the mould but also prevent it from growing back in the short term. Let the chemical sit for a while, follow directions on the back of the bottle regarding this. Pressure wash the surface methodically, it can be easy to miss parts when the surface is covered in chemical. Rinse thoroughly to ensure no chemical is left sitting on the surface. Step back and admire your handywork.
Once your surface is sparkling it's a great time to stain/paint your deck or add a sealant. This increases longevity and can be a great cost-effective way to refresh a space.
Any other questions? Our friendly team is more then happy to answer them! Give us a call on 1800 812 223 or on our Tech Help Line 1300 712 724 or drop us a line sales@powerblast.com.au