Bundle it Up!
Bundle It Up - Receive Your FREE Footy
Either choose from the below created bundled or create your own. Add three accessories to any machine to receive your free footy. Powerblast stocks a wide range of accessories for a wide range of applications to ensure that you get your job done in the most effective and efficient way possible.
Home and Garden Bundle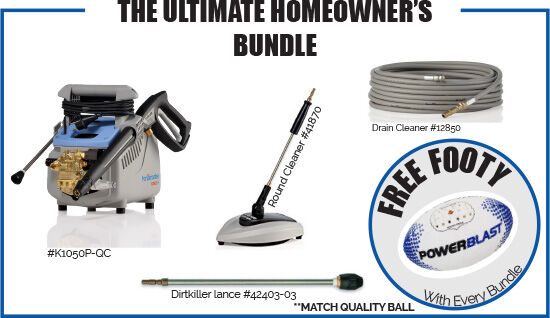 Everything you need to keep your home and surrounds immaculate.
Keep water flowing freely through your drains with the drain cleaner hose. Quickly revitalise your driveway, pathways and concrete areas with the ergonomic round cleaner and blast through any stubborn areas with the dirtkiller. Your bundle to keep your home perfectly maintained.
Powered by the Kranzle K1050P Cold water130 bar, 1880 psi | 7.5L/Min.
Detailers Bundle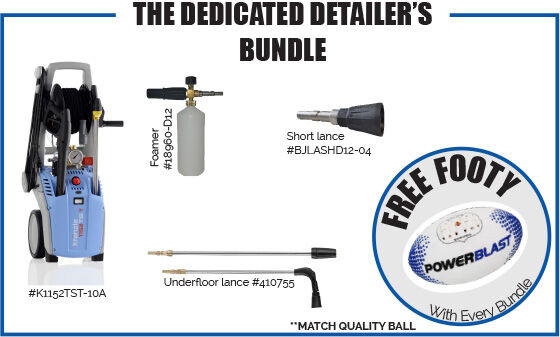 Start your detailing kit off with a strong foundation.
A short lance is nimble allowing you to clean those small spaces easily. An underfloor lance allows you to get those hard-to-reach spots ergonomically. A foamer is an essential in every detailers arsenal to increase dwell time and to activate your chemical, leaving a cleaner wash.
Paired with a Kranzle K1152TST-10A Cold Water 115 bar, 1667 psi | 10L/Min .
Contractors Bundle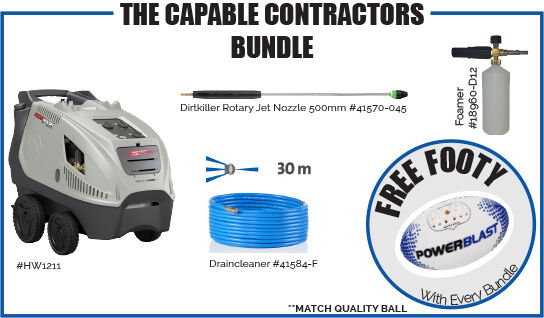 These accessories ensure your capable of cleaning effectively whatever your game. Foaming activates cleaning agents in chemical ensure a faster deeper clean. The 30mtr drain cleaner will keep you drain unblocked all year round. Keeping a dirtkiller lance in your kit will ensure you have the pressure where you need it!
All backed by 120bar, 1740psi | 11L/min in the
Powershot HW1211.
Create your Own Bundle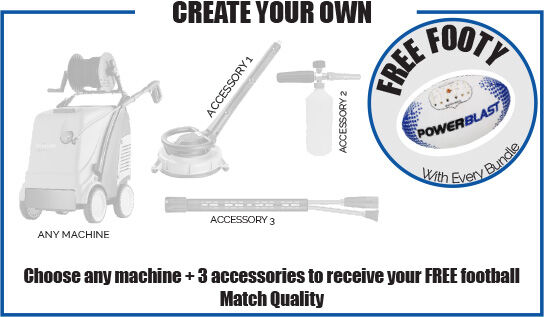 Or create your own bundle! To find a machine that suits your requirements get in touch with our team or your local agent and discuss your options. Powerblast stocks a wide range of machines and accessories and we have a dedicated technical team to back you up! Less Downtime. More Washtime.
Give us a call on 1800 812 223 or email us at sales@powerblast.com.au to secure your bundle today.
*Offer valid 01/07/2022 - 30.09.22*
BROWSE OUR ACCESSORY RANGE HERE: