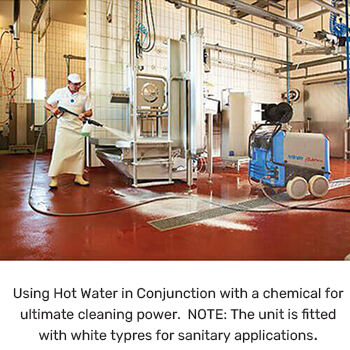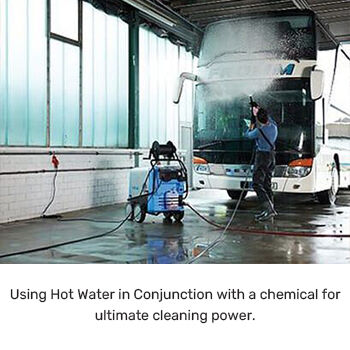 Improve your cleaning efficiency by upgrading to Hot Water!
Cold water high pressure cleaners can be used very successfully in many different applications – using a combination of the water impact, and, where necessary – the use of chemical or soap.
Generally, cold water is used in applications such as cleaning heavy earthmoving equipment, removing marine life, general maintenance and building cleaning, and other areas where grease and oil are not factors.
When it comes to cleaning applications where you are required to sanitize or degrease an area – this is where hot water high pressure cleaners are ideal. They clean much faster and more thoroughly than their cold water counterparts.
Why? Well. We all know that when we wash the dishes it is much easier if we use hot water – and even easier if we use hot water, and a cleaning chemical. The reason is that the hot water is able to dissolve the grease rather than just shifting it as cold water does. This results in a much cleaner surface. The hot water is also ideal for areas that require hot water or steam for sanitization – for example food processing plants, pharmaceutical plants and other federally inspected areas.
We have different hot water models available:
Diesel heated electric models from the Kranzle range
Electrically heated electric models from the Kranzle range (ideal for indoor use and for sanitary/food/pharmaceutical applications – no fumes, no fuel)
Self-contained engine driven units – no electricity required
We can also supply Zone Rated hot water units, LPG driven hot water units, and more!
Industrial Hot Water Pressure Washer for Commercial Use from PowerBlast
You've been offering commercial pressure washing services for years. You know the importance of using the right industrial pressure washer for the clients you serve. While you provide services to a vast array of industries, contracts with food processing plants bring in the most profit and have become your specialty. Overall, you prefer diesel-powered washers over electric for their mobility and higher PSI strength – something that comes in handy working in large plants with sticky food residue. The diesel hot water pressure washer you'd used for years just broke. Don't fret; this is an excellent opportunity to invest in a commercial diesel pressure washer of higher quality. Like you, PowerBlast has been operating for years as stockists for Australia's pressure washing industry. We carry the leaders in diesel pressure washers Kranzle; known for their robust, long-lasting, top-quality commercial equipment for every use and surface.
Choosing the Right Industrial Diesel Pressure Washer
A commercial diesel pressure washer packs a lot of punch in a mobile package. While cold water options are available, hot water pressure washers are better suited for clearing oily food deposits quickly, efficiently, and using less detergent. When working around food, the less chemical residue left behind, the better. Leave your client's facility sparkling fresh with a diesel hot water pressure washer. Ideal for use in food processing plants, the Kranzle Therm 1165/1 is a high-performing model in the 400v series for its safety, reliability, performance, and cost efficiency. This model allows you to adjust the burner's performance, monitor the flame, and has various safety features such as a thermal overload switch, automatic low-fuel cut-off, total-stop automated controls, and a parking brake. The large wheels with rubber tyres make easy work of stairs, the unit comes with refillable high-pressure detergent, and all hoses and nozzles secure neatly onto the rig. You'll look the part of a seasoned professional when you show up with this compact industrial diesel pressure washer.
For Peace of Mind Purchase from PowerBlast
Whether you choose the Kranzle Therm 1165/1 or another unit, our team of well-informed technicians are available to answer any questions or assist with product comparisons. Tell us what your business covers, and we'll fit you with a diesel hot water pressure washer that is versatile enough to serve the needs of various jobs. This allows you to cut back on equipment storage and eliminates the need to return to your headquarters in-between bookings to change units — enabling you to make more reservations in a day. Explore our parts and accessories page of our online store where you can find specialised attachments and replacement parts compatible with your new Kranzle rig. Extensions, lances, pumps, nozzles, and other fixtures modify the power and type of spray your washer releases allowing you to adjust settings to match the job at hand. With all our products, your complete satisfaction is our goal. To achieve this, on top of unbeatable product warranties, we offer a 30-day money back guarantee for all purchases.